The fluidity of the bohemian style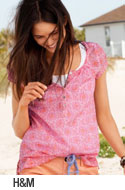 I just love this style of apparel that evokes chic and comfort if, of course, it is dosed adequately. It is important not to go overboard with this style.
Fluid and ample tops can be worn with jeans for a cocktail and with a skirt at work. Offered in various lengths, with or without elastics waists to give you the option of adding a belt if you feel like it and to wear the bottom piece of your choice.


The neutral colored shoes
At last we can choose colored shoes! This year, we MUST opt for something other than black. We have seen enough in the last few years! The "neutral" colors are very popular! So much lighter and feminine, not to mention the length it adds to your legs when worn with a skirt or a dress! And I confirm that the neutral colors can even be worn with black! Sublime!


The trench coat in pop colors!
A classic that still holds the road! The perfect length is mid-thigh, just long enough to hide the buttocks and short enough not to crush the silhouette. Dare colors: coral, red, yellow… or patterns! It adds style and personality to many outfits!


The wide jeans
The light at the end of the tunnel for those who never really like skinny jeans!
Wide is back and is very flattering to refine your hips and buttocks and it is the perfect choice to lengthen the silhouette. It is imperative to wear it with high heels no matter what type as long as you don't wear flats. Also forget about the tunic that would make your look too heavy. Choose a regular top or a bat sleeve top, very trendy!


The printed scarf
An accessory that will add a bit of freshness to your clothes! It is a nice way to add a bit of color to your black clothes! Choose a light fabric, easy to handle and rectangular so that once attached, both sides can fall vertically on your clothes. It is an easy trick to make you look taller!


The colored jacket
This is unquestionably the best piece to optimize your wardrobe! To revamp your pants, skirts, dresses and jeans! It is even better with ¾, sleeves because it defines the waist and balances the silhouette. If the sleeve is long, turn it into a ¾ sleeve by turning the sleeve outwards.