Kids Over The Door Organizer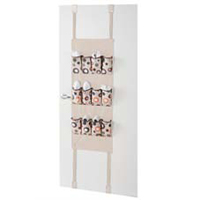 The straps of this "Over The Door Organizer" secure it over any standard door, and turns wasted space into storage space! The in-total 12 pockets are very convenient to store your kids' shoes, toys and other accessories.
Kids Large Storage Bucket
The "Kid-i-fied" size of this storage bucket will encourage your kids to put their own things away after playtime! It organizes all their toys and other games. Available in fun colors and the side handles makes it easy for your kids to carry these buckets around in their room.
Kids Small Storage Bucket
Let your kids store all their little items and toys in these cute small-sized buckets. They also fit perfect into your baby's room, to hold the small plush of your newly born! Available in fun colors and easy-carry side handles.
Kids Pop Up Hamper
Use this cheerful multi-purpose popup hamper to encourage your kids to clean up their room and store all their clothing, laundry, toys or games in the hamper. It is made of breathable mesh, which will allow you to see inside. It will fold flat for easy storage and the top slit opens, which gives you easy access and helps you to store oversized items in it.
Kids Multi Purpose Tote Bag
This durable and multifunctional tote bag is very useful for storage and laundry at home as well as on the go! The exterior pocket is very convenient when you want to store some accessories. When carried the padded handles and handy short straps give you comfort.
You can find all these products at Planting Happiness