Libra baby
September 24th - October 23rd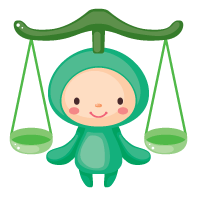 Charming, attractive and passionate about the beauty that surrounds him, you will quickly notice that you're your little Libra baby hates disagreements and fights that could mess with his little serene world. With a strong sense of justice, your little one will spare you many worries.
Relationship with family and friends
Your Libra baby will quickly make tons of friends as his need to see his peers happy is essential. He has everyone's well-being at heart and wants to share his love of life with everyone around him.
Relationship with mom and dad
Fire signs (Aries, Leo, Sagittarius)
Your authoritative nature could stop you from developing a natural complicity with your child. Be aware of itand try to adapt, as it will no doubt be beneficial to your baby.
Earth signs (Capricorn, Taurus, Virgo)
Learning how to say what you think and expressing your thoughts clearly will allow you to show your child how to manage his life.
Air signs (Gemini, Libra, Aquarius)
This is one of the most harmonious matches, as your funny side will seduce your child. However, your independent nature could scare your little Libra, who tends to be very dependent.
Water signs (Cancer, Scorpio, Pisces)
Be careful not to have too many expectations from your baby, because he's the one in need of love and tenderness, not the other way around. Go easy with your emotions and pay attention to his.
Libra celebrity : Kate WINSLET
Air sign
Planet : Venus
Metal : platinum
Stones : turquoise, jade, sapphire and topaz
Numbers : 2, 8 and 19