The Breastfeeding section in the Pregnancy and Breastfeeding Pocket Guide created by the team at Hôpital Sainte-Justine also includes advice on commonly used products.
General Tips
For your well-being and to increase your milk supply, get lots of rest, eat a balanced diet and breastfeed in a calm environment.
Report any symptoms or discomfort to your healthcare professional.
Some medications are safe to take while breastfeeding, while others should be avoided. Talk to your healthcare professional.
The Breastfeeding section of the Guide also answers your questions on the following topics:
Common Discomforts
Sore nipples, drying and cracking
Milk "coming in"
Normal breast fullness
Severe breast engorgement
Products to increase milk production
Weakened pelvic floor
Vaginal yeast infections
Headache and backache
Fever
Seasonal allergies
Cough and sore throat
Nasal congestion and cold
Diarrhea
Constipation
Gastroenteritis
Hemorrhoids and perineal pain
Heartburn and gastric reflux
Commonly Used Products
Vaccines
Vitamins
Natural health products
Artificial sweeteners
Sunscreen
Insect bite prevention
Head lice treatments
Wart treatments
Alcohol
Caffeine
Tobacco
Back to fertility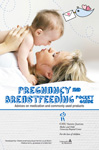 You can download the free Pregnancy and Breastfeeding Pocket Guide now. You will find all sorts of tips on common conditions as well as medications and products commonly used during pregnancy and breastfeeding. Take it along with you for helpful answers to your questions. Available as a PDF with an interactive Table of Contents or as an ePub for downloading to mobile devices.